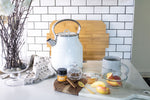 What gets you up in the morning?  Do you prefer coffee, or tea?  Well, for Maritza Buelvas @Beautyisamother, she gets a jumpstart on her day with a cup of apple tea!  Just add a few slices of red apple, a touch of honey, and a sprinkle of cinnamon and sugar--add some hot water and you've got apple tea!  We recommend using a Haden Heritage kettle with an ergonomic handle and boil-dry protection just like what Maritza used!  And for those interested in the health benefits of apple tea, here are 6 benefits below:
helps manage diabetes
improves digestion and cures constipation
improves bone health
improves vision
boosts immunity
improves heart health 
For more images, please visit our friend Maritza on her blogsite, here!