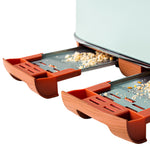 Tips for Cleaning a Haden Toaster
A toaster can sometimes be forgotten in the kitchen cleaning routine, yet it certainly deserves a regular cleaning.
Follow these simple steps for a clean toaster:
1. Unplug the toaster. Remove the crumb tray and shake the crumbs to the bin. Wipe with a damp cloth and leave to dry. Then shake the toaster to get any remaining bits out.
2. For any brown or black marks use a cleaning paste applied with a cloth, it removes them effectively. This also removes any marks on any bits like buttons and knobs. Always use a cloth to avoid any surface scratches, especially on coated or colored areas.
3. For any stainless-steel toasters, use a glass cloth which gives a lovely finish. You can apply a little glass cleaner or multi-surface for a nice shine.